Radiology as a Service: buying clinical imaging instead of devices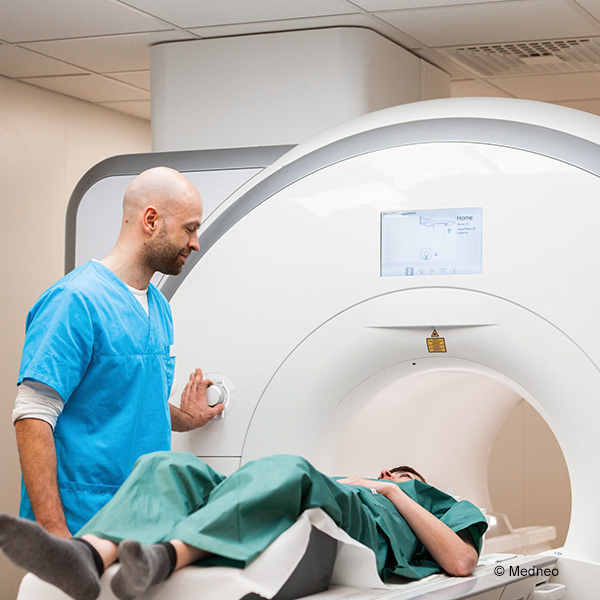 The "Hauptstadtkongress für Medizin und Gesundheit" is well-known as a trade fair with many exhibitors, lectures, and discussions. But having vital checks done with the MRI there is rather unusual. But not at the most recent event this May, where Medneo introduced one of its mobile diagnostic centres and offered a cardiac MRI vital check carried out by the German Heart Centre Berlin. This Berlin-based company offers various imaging services to medical service providers throughout Germany and selected European countries.
Their experience showed a need
With its radiology-as-a-service business model, Medneo is closing a gap in the radiology market. The three founders, Dr. Matthias Issing, Nicolas Weber, and André Glardon came up with the idea for their business model while at their previous jobs. They were active in the medical technology industry and were repeatedly asked one specific question by their customers: Why can't I just buy a range of clinical images as a basis for diagnostics? The industry didn't want to make that happen. This gave the founders the inspiration for Medneo.
"Among other things, we were inspired by what's happened with cars. It's an expensive asset that's not really being used to its full capacity. But with car sharing, you're only buying the ability to be mobile and not the entire car to get from A to B", says André Glardon, co-founder and Managing Director of Medneo Deutschland GmbH. Medneo offers fully managed diagnostic platforms from which medical service providers can purchase images. Radiology-as-a-Service is what they've decided to name this business model inspired by other examples of the sharing economy. Users no longer need to make expensive investments in assets, but can instead purchase their availability.
In practice, this means that Medneo takes care of everything related to creating clinical images as requested by its customers. For this, the company provides the entire building infrastructure, equipment, equipment technology, IT technology, and non-medical personnel. Customers no longer have to buy and operate the devices, which reduces their costs and allows them to focus on their core competency: medicine. "By separating the radiological workflow into medical and non-medical components and consistent IT-based process optimisation, we can ensure consistently high process, imaging, and service quality across all locations," says André Glardon.
Medneo offers its services in three basic models. One using imaging centres in existing buildings, the second in modular buildings based on shipping containers, and, the third and newest one, mobile imaging services: In this third model, the MRI goes to where it is needed and moves on to the next location when it is no longer needed.
Success since 2011
The business model works. The first MRI was set up in Berlin in 2012 and now the company operates almost twenty diagnostic platforms in Germany and Switzerland. By the end of the year there will be thirty. In addition, Medneo will soon be opening locations in England.
So far, the company has three locations in Berlin and, in Brandenburg, the company operates a diagnostic platform on the site of the Ernst von Bergmann Hospital in Potsdam. Professor Alexander Huppertz, a specialist in diagnostic radiology at the policlinic Potsdam, is convinced of the Medneo approach: "The collaboration works because both sides focus on their respective core competencies. A successful approach that should convince other medical service providers in Germany and internationally."
Berlin as an advantage
There were many reasons for Berlin as a location. Many decision makers and associations are headquartered here; the city is also home to most health industry events in Germany. In addition, Medneo's focus on going international also made Berlin the obvious choice, since the most foreign embassies in Germany are located here. "In addition, Berlin offers great support with help from Berlin Partner and the Investment Bank, among others," says André Glardon.