x-cardiac – Artificial Intelligence detects complications before they occur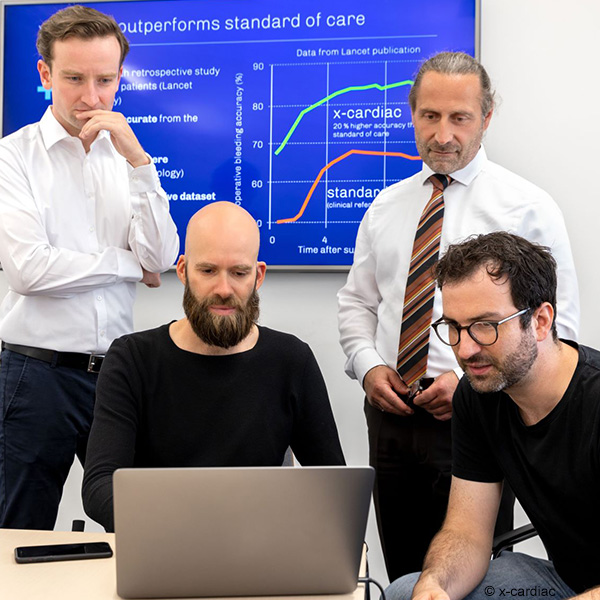 After heart surgery, patients in the intensive care unit are connected to numerous devices and a large amount of data is routinely collected. "Why not use this mass of data, draw vital conclusions about the condition of the patients and intervene before complications arise?" thought the then aspiring Dr. Alexander Meyer in 2013. Nine years later, Meyer, who is now a qualified cardiac surgeon at the German Heart Center Berlin (DHZB), successfully implemented the idea: He founded the company x-cardiac GmbH, which developed the corresponding software.
"With the help of Artificial Intelligence, our software x-c-bleeding recognizes the pattern of postoperative bleeding or kidney failure after heart surgery and warns before serious complications such as organ damage can even occur," explains Meyer, who heads x-cardiac as one of two managing directors.
Anonymized data from 50,000 patients
On one hand, the software uses the anonymized data of almost 50,000 patients and, on the other hand, the data of the patient concerned. The information is then analyzed in real time and trajectories of the individual vital parameters are used as time series. " This also helps a doctor, who is only with a patient at certain points and can often only react to symptoms," says Meyer. "With our software, physicians can quickly identify developments and intervene at an early stage."
In addition to medicine, Meyer also feels at home in computer science: He wrote his first programs at the age of seven, after school he completed a vocational training as a software developer, but then switched to medicine. During his studies and in the first years of his career as a doctor – including some years in Frankfurt – he never let go of the question of why the abundance of patient data is not being extracted and used better.
Tremendous start-up mood in Berlin
In Berlin, where Meyer has been working at the DHZB since 2015, he found open ears for his idea. "There is a tremendous start-up spirit in this area and there are many funding opportunities," he says. In 2020, the physician founded x-cardiac GmbH with the support of the DHZB as well as the Berlin Institute of Health (BIH) and Charité-Universitätsmedizin after years of development and testing.
Oliver Höppner has been on board at Meyer's side as managing director since the company was founded. The experienced economist has been involved with life science companies for over 25 years, has accompanied several company start-ups and has a large network in the areas of finance, investors, science and industry.
No problems finding IT experts
"Of course, Berlin is a great base for such a start-up," says Höppner. "On the one hand, there is the density of hospitals, the Heart Center and the Berlin Institute of Health, and on the economic side, there are also great funding opportunities, for example through the Investitionsbank Berlin or the Hospital Future Act." Höppner further emphasizes that Berlin is also a good location for IT. "In fact, we had no problems at all finding good staff for our development department," agrees Meyer.
In the meantime, the x-cardiac team has nine members and x-c-bleeding has been approved as a medical product since 2021 after successful tests in intensive care units of the DHZB. This means that x-cardiac can now use the software in other selected cardiac centers and launch the pilot phase. "The clinics are very interested in our product," says Höppner, adding with a smile: "Some say we should leave the software right there with them."
Second medical product later this year
For Meyer and Höppner, the possibilities of AI in intensive care medicine are far from exhausted with x-c-bleeding. "We want to have our second medical product, x-c-renal-injury, ready for development in the second half of the year, which will then be integrated into our x-c platform together with x-c-bleeding," says Höppner. "Many other applications are also conceivable," says Meyer, who continues to link medicine and computer science scientifically as well and was appointed Professor of Clinical Applications of AI and Data Science by Charité Universitätsmedizin Berlin in 2020.
According to Höppner, after completion of the pilot phase, x-cardiac would then like to install the medical product at clinics together with distributors. "This is the only way we can ultimately place the software successfully and comprehensively on the market."
Related links