In portrait | HYBRICK – Modern laboratory and production space for the life science industry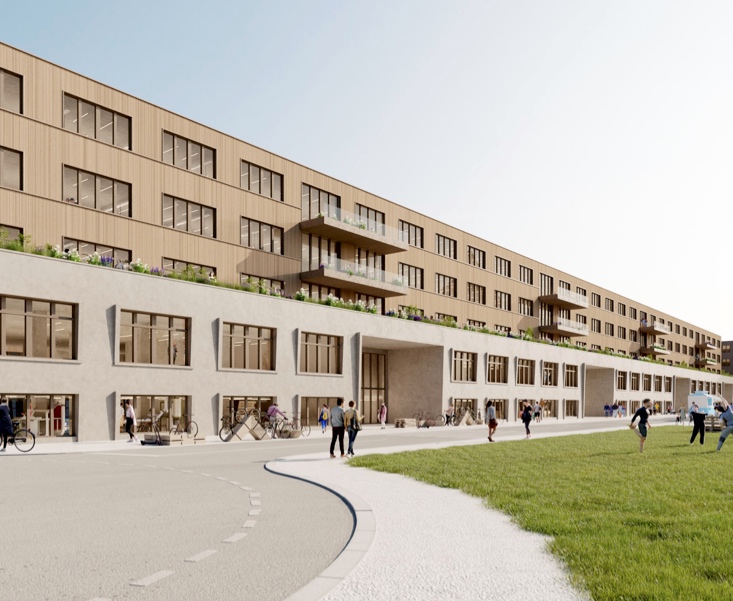 The space requirements of modern life science companies are complex. From initial small laboratory spaces in start-up centers to dedicated large-scale production units for the manufacture of high-quality pharmaceuticals, the requirements in the life cycle of companies are constantly changing. High flexibility is consequently a key criterion, which is why many decision-makers often tend to rent hybrid space with flexible usage options.
High demands on real estate
Making such flexibility possible is the approach of the HYBRICK concept for new buildings. HYBRICK is a company of Investa Real Estate. It develops buildings in which different laboratory types, such as chemical, biological, diagnostic laboratories as well as dry labs, can be combined with large connected production areas, flexible layouts and modern office and work environments. Short distances, spatially coordinated work processes, a functional mix and space for communication and exchange are among the planning principles.
"Due to specific user requirements, laboratory and high-tech real estate requires special real estate expertise. This real estate must be able to map complex procedural and scientific workflows as well as regulatory requirements such as sustainability criteria. In a market traditionally dominated by owner-occupiers, the implementation of these requirements within the framework of a flexible rental model offers great growth opportunities," explains Moritz Kränkl, Managing Director at HYBRICK.
Modern laboratories for rent as a sustainable space for innovation and growth
With an integrated planning process, the company offers its customers a comprehensive solution from planning to ready-to-move-in rental space. The approach to this process is to increase process efficiencies as early as the layout planning of the building and to improve collaboration within and between departments. Compared to solutions in existing buildings, new buildings typically allow for better space utilization, reduced energy costs, and positive impacts on employee productivity and well-being.
HYBRICK Berlin as a sustainable new building with modern laboratory and production areas
The first HYBRICK is currently being built as part of the Marienpark innovation campus in the south of Berlin. By the end of 2025, the new five-story building with around 22,000 square meters of leasable space will offer a flexible floor plan and an inspiring working environment with its hybrid laboratory, production and office spaces for companies that conduct research, development and production in urban areas.
The constructional and technical conditions of the building allow for the implementation of chemical, biological, analytical as well as physical laboratories in the safety levels S1 and S2. In addition, HYBRICK supports network events with premises that are suitable for promoting collaboration between its tenants and partners. This approach fosters interactions with other companies and scientists.
Related links: